Download from mediafire or rapidshare

Track listing:

Brigantia - Prisoner 
Xenocide - Ritualistic Afflictions 
Three Hour Ceasefire - Into The Breach 
Neifenbach - A.F.R. 
Shardborne - Approaching C 
Vile Regression - Vile Regression 
Castero - White Gold 
Gacys Threads - Savour Your Scars 
Zealot Cult - Knives Of The Zealots 
Dark_Matter - Monolith 
Five Will Die - Rosie Jones 
Clurichaun - A.W.O.L. 
Dead Label - Reign 
Antihuman - The Cat Hates Fags 
Cryptus - End Of Path 
0 plays
Brigantia - Prisoner
Brigantia, north Tipp's own timelords of Doom, have emerged in recent times as the mid-west's premier metal band and 2010 has seen the trio gig all over and the release of their Chronic Argonauts demo to national acclaim. The Bleeder caught up with the band's vocalist and guitarist, Dave Gleeson, to talk doom, demos, and distribution deals…


What's this I'm hearing about a distribution deal?

Dave: I'm very happy to say that Altsphere have decided to release our debut album in September of next year. Altsphere is a DIY label and shop based in France that's recently re-opened after a few years' hiatus. They deal not only with doom, but also black, thrash, sludge etc.

The Chronic Argonauts demo has been well received at home and abroad. Having binned two previous demos that you were unhappy with, did you feel any pressure when putting this one out for review?

To be honest, no. We felt that we had been guilty of releasing sub-par material in the past so we agreed to spend the extra time on this demo and step up the quality control somewhat. The decision to record with Ciaran Culhane was one of the best we have made; finally someone who was able to demystify the recording process for us and give us the sound that WE wanted. I listened to the demo recently and I can safely say that it is the first recording that I've been proud of. That said, it is only a demo and we have achieved nothing yet.

0 plays
Zealot Cult - Knives of The Zealots


Mick, some will recognise you from your previous band The Swarm. You had some good times with that band, what were the highlights?

Mick (Guitar): The Swarm was my first band and I have nothing but good/blurry memories of that time. The days of The High Stool, The AMC, decent gigs in Dolans and a young scene starting in Limerick. There was us, Discord, Victim X, Blessed Darkness, Mysteries End, Roper, The Poke, Calzino Fiasco to name a few, playing what was then considered to be extreme music in Limerick. You had the annual Noizefest gigs and also whatever big bands The AMC managed to bring to town such as Labrat, Stampin' Ground, Skinlab, Medulla Nocte, Narcosis etc. and we were lucky enough to land some decent support slots in Limerick, the highlight being Hatebreed. My favourite gig was when ourselves and Discord supported Firebird and met the legendary Bill Steer(formerly of Carcass). We avoided all the Carcass questions but as the night wore on and the alcohol set in we tormented him with nothing but Carcass, Carcass, Carcass!!! Absolutely sound bloke! We did a good lot of gigs outside of Limerick too including the Day Of Darkness festivals, I think it could have been twice or three times, can't really remember. Good lineups there too including Dismember, Entombed, Candlemass, Sabbat etc. The biggest gig we ever did was supporting Anthrax in 2003 at the Ambassador.

We recorded two CD's: "Bruise The Flesh To Black" and "Six Acts of Atrocity" and both were well received. We started to record a third CD which was a self-recorded affair but soon afterwards the band broke up. I still have the sessions somewhere. Those songs were the most extreme songs we had and in hindsight, I think paved the way for Zealot Cult.

Zealot Cult very much sounds like the natural successor of The Swarm and your own influence on the band's sound is clear. However, the band also comprises former members of Victim-X, namely Jay (guitar/vocals) and Conor (bass). How have the lads shaped the band's sound?

Well, there's two ex members of The Swarm that wrote all the music in The Swarm so I think regardless of musical style, we're still going to have the same leanings. Basically we wanted to go more extreme with the last band and that wasn't going to happen, musical differences and all that. We had many drunken notions with the lads from Victim X about a grind side project so when both bands folded it made perfect sense to start Zealot Cult. Initially we were gonna go the grind route but all our influences are early death metal so the music came out the way it did. Music is natural and shouldn't be anything contrived or forced because otherwise it won't flow. The lads have a huge impact on the sound of the band. Without any one of them it just wouldn't be Zealot Cult.

Jay brings in a lot of riffs, writes all the lyrics and is a very tight rhythm player whereas Conor has a hand in the arrangements of songs and doesn't play bass like just another rhythm guitarist. His bass playing locks in with the drums nicely and complements all the fills and rolls adding the heavyness to the sound. He also comes up with some crazy basslines that go behind the guitar harmony parts. Two excellent musicians and they have a good ear for piecing sections together. The band just wouldn't be the same without them.
0 plays
Vile Regression - Butchered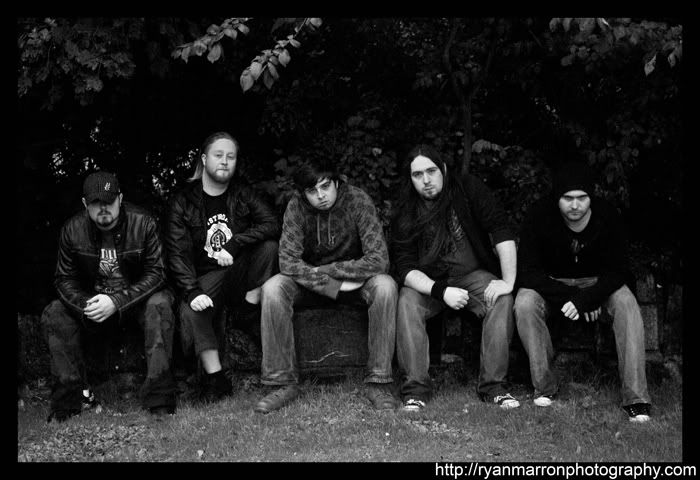 Vile Regression has been one of the hardest working bands nationally over the past two years, but had a couple of setbacks lately with Keith (guitarist) breaking his arm and then your old drummer leaving the band. Can I take it that things are now back on track?

Danny (vocals): Things are very much back on track for Vile Regression. We've been practising non-stop with our new drummer trying to get him up to scratch for our comeback gig and making some adjustments on our new material, which we are very excited about playing.We have booked recording time in early December to record our up coming release which we can reveal will be called The Pattern Evolves. We are also delighted to reveal it will be released on a label. October onwards will see us gigging all over the country including dates in Cork,Limerick,Dublin and Galway. People can check up on the dates on our myspace.We've all invested in new gear aswell so there's a much more professional sound to us these days.

The band doesn't fit squarely into any of the niche genres that generally tend to receive most support from the underground establishment in Dublin. Has this affected how you've gone about things? Or is it a non-issue?

Well, we are all very open minded individuals so we try to foster an openess when it comes to arranging new songs. The fact that we don't fit squarely into any genre can only be a good thing for us. We think it is a great idea that there is a classification system for metal but sometimes people get too caught up in it and lose focus on enjoying the music. It's not like we made a conscious effort to make sure we could never be categorised into a genre. It's just a consequence of our open-minded musical nature. Sometimes we go off on tangents with an idea that can produce some interesting results,other times the song writing can be very straight forward. Thankfully there's only a minority of narrow minded fools in the metal community in Ireland and we've received amazing support from promoters such as Bad Reputation as well as many of our peers.

0 plays
Xenocide - Ritualistic Afflictions


Kris, it's been a busy year for Xenocide; gigging all over, supporting Suffocation, and recording at Trackmix studio. A physical release would top it all off nicely, any plans for a demo/EP/album?

Kris (guitar): Yes indeed, we are currently writing for our debut album, but it's moving pretty slowly due to the work and college commitments of some band members. We originally had it planned to be released before Christmas but it looks like we won't hit the studio until the new year. But rest assured we won't stop, next year is looking to be even better than this one; debut album, couple of tours with some international bands, and a few gigs abroad.


The band built its reputation as a ferocious live act under the Criminal Jammage moniker. What prompted the name change?

The name Criminal Jammage was always meant as a joke, but after a gig or two it kinda stuck. So a couple of years after the band was first put together, we were looking to take it to the next level and we decided on a name change. With the original name we got gigs and traveled around Ireland a bit, it was fun and we had a laugh. But now that we're called Xenocide, everything has been kicked up a notch. As soon as we changed the name we got offered the Suffocation and Trigger The Bloodshed support slots, which kinda says it all really!